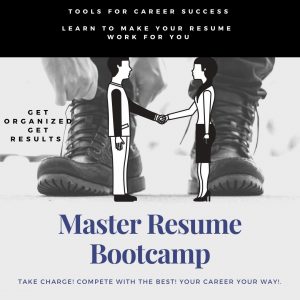 Ready to find a good job, move up, change jobs, re-enter the workforce?
Tired of submitting resumes and not getting calls?
Wondering how to complete with hundreds of people applying for most jobs?
Are you getting the first interview, but no callbacks?
Have challenges like job gaps, age, re-entry, disability? 
Wonder if the automated systems ate your resume before anyone saw it?
Want to know how people who make big bucks get their foot in the door?
I've created resumes that earn 6-figure job offers for over twenty years! Sure, not everyone makes 6-figures, but what I do for them clearly works. It will for you too! I want to teach YOU how to do it yourself. So, check out the testimonials at the bottom of this page. Then, get ready for more success.

You'll love our newsletter too. You get the inside scoop about the new trend in automated interviews, automated resume processing, job board posting, social media pros and cons, handling awkward questions, relocation decisions, and dealing with phone or Skype interviews. Sign up below for our monthly newsletter.