The Master Resume Bootcamp evolved from a system I created to organize and manage high-level executives who need multiple resumes, bios for publications and websites, board and investor portfolios, and other documents based on their career history. That information must be accessed again and again. It can't contain inconsistencies that jeopardize credibility. It can't take days to compose the information into a document worthy of publication. It can't be out of date. Key information needs to be accurate and easily available.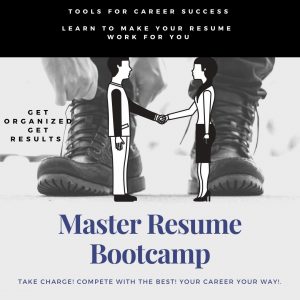 Soon, I realized my system could benefit everyone. We all need an easy way to manage and tell the work-life story we tell over and over during decades of work. This information gets used throughout our life. We pull it out after retirement when we start a second career or volunteer. Others pull it out for awards and even for eulogies. That's a long time to keep that much information organized and accurate. People move, divorce, and experience disasters–all of which can jeopardize collections of information. None of us have a perfect memory in the present, much less decades back in time.
It's a BootCamp because most of us find it painful to dig out and compile all the information needed to build the master resume. Like other physical bootcamps, it's worth the pain and effort when you see the result. With proper maintenance, about 15 minutes once or twice a year, you never have to do it again. Everything you need to fill out applications, craft a cover letter, create a new resume, create several resumes quickly for applications that target different types of jobs, and even write a quick bio for your church or school newsletter, is at your fingertips.
It's a Master Resume because it's focused on your work history, and it's most often used as the basis for creating resumes and cover letters, as well as a quick reference sheet for online applications. It's also a great tool for finding holes in your experience when you want to prepare for promotions.
Of course, that process doesn't address the urgency most people feel when they need a resume quickly. It is better to get all the information in order to get the maximum benefit from the BootCamp. However, I know time can be critical, and a full resume guide sheet and a professional resume template come in the package. They are ready to download and use.
With all that in mind, I made the decision to move the videos, downloads, and template to Udemy. It's cheaper for me, less work, and that means I can offer The Master Resume Bootcamp at the extremely low price of $19.99. There are many people out there who need resume help. Some also need a very budget-conscious option without sacrificing quality.
It's the same quality and same information used for the course that cost $89 when I had to maintain a separate classroom platform during the past two years. If you were on the fence, this is a great chance to get it now. Even if you have me do your resume and/or want to do coaching sessions, you'll love having the background to get you organized. Get more details on the Master Resume Bootcamp page.
Have fun and share it! I'm here if you have questions or want to add coaching sessions. Of course, I'm happy to take charge of creating an outstanding resume for you too.