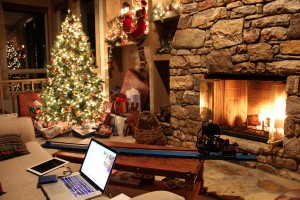 Keep up your job search over the holidays. Although you may be busy and want to forget the problems for a while, so does everyone else. Take advantage of the holiday season and keep actively looking for the right position. Be willing to schedule an interview the day before or the day after a holiday. Be available and demonstrate that your job search still has priority. If you are there, while someone else is out of town, you may end up on the short list in a hurry.  While this is the season to be jolly, there are some things you should not do.
Don't wear the Santa socks and a reindeer tie to the interview. Save the humor to entertain others after you are hired and know whether this company is a fit for your brand of humor.
Don't talk come to an interview obviously suffering from last night's party.  If you can't function at your peak, don't party before an interview.
Don't bring gifts or food to an interview. Your heart may be in the right place, but those things may be against company policy.  Drop the food gifts on your friends, family, veterinarian, beautician, barber, doctor, and others.
Don't serve liquor, if you arrange a networking party during the holidays. You won't have to worry about everyone getting home safe (there's liability for hosts in some states). You also won't have to worry about anyone misbehaving from over indulging.
Don't be late due to traffic or weather. Promptness demonstrates your ability to plan and control your schedule. Check the weather reports and allow enough time. If you are early, you can review your notes or take a few moments to visit the restroom and relax a bit. Of course, you don't have control over flight cancellations or delays, but you do control your personal schedule and transportation.
Don't decorate your resume for the holidays. It will stand out, but not in the way you intend. Save your creative talents to help decorate at home.
Now, enjoy your holidays and keep looking for that perfect job. You could end up with a lot more reasons to celebrate!